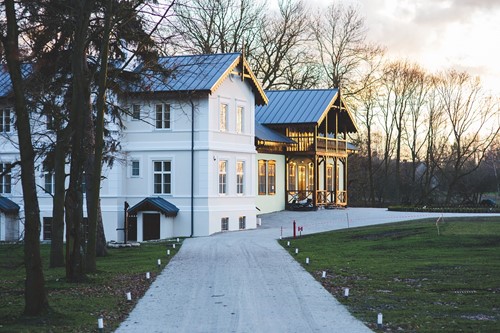 Paved driveways are widely credited with increasing curb appeal and improving real estate values. However, dirt, gravel or driveways suffering from disrepair can negatively impact home sales. If you rank among homeowners who need a new driveway installation, these are things worth considering.
What driveway material should you use?
The best material for a driveway is driven by things such as location, DIY abilities, cost and long-term maintenance, among others. A handy property owner can install materials such as concrete and interlocking pavers. Hot-poured asphalt poses a significantly higher challenge. These are other things to consider about popular driveway materials.
Concrete:Ranked among the relatively inexpensive materials, concrete typically enjoys a longevity of 25-50 years. This material is astounding in hot-weather regions because it resists sunlight and heat.
Asphalt: Also commonly called "blacktop," this material delivers excellent curbside appeal and return on investment. Asphalt generally lasts 15-20 years and requires maintenance every three to five years. Although considered labor-intensive by comparison, many homeowners choose asphalt for its aesthetic value.
Interlocking Pavers:Homeowners can secure thick concrete pavers from local building materials outlets and install them without the help of a contractor. These relatively inexpensive products appear similar to cobblestone and can last upwards of 30-50 years.
Although these rank among the most popular materials, homeowners can also consider glass, tar-and-chip and others. Along with materials, property owners may want to consider design elements.  
Does your driveway design deliver function?
The proven benefits of an inviting driveway should be combined with functionality. Common missteps homeowners may want to consider before breaking ground are:
Drainage:Regions with heavy and sudden downpours can suffer flash flooding and water backing up on properties. People who deal with this issue during rainy seasons may want to consider integrating a drainage system. Metal grates flowing into an underground pipe can be positioned on the lower third of the driveway.
Pitch:Ideally, the grade of a driveway runs two to five percent pitch. By employing adequate pitch in a driveway design, water will flow away from the garage and home.
It's also prudent to check local building regulations regarding driveway installations. Although common guidelines call for driveways of a minimum of 10 feet in width, regulations may differ.
Homeowners who have not previously installed a driveway or remain unsure about the design and materials should consult with a professional.